Taste the Difference Real Makes
There's no doubt that what sets Sheedy's apart from other boutique hotels is our exceptionally high standard of food. Dishes prepared with fine locally-sourced ingredients – and whether you're a keen foodie or simply appreciate beautifully-prepared food made with the freshest of ingredients – you're in for a treat.
And some time make the time to drive out west Into County Clare…And catch the heart off guard and blow it open

From 'Post Script' by Seamus Heaney
Provenance
Sheedy's has built its name by 'keeping it real' and when compiling his menus of classic French dishes, chef John insists on the highest quality, authentic provenance and seasonal freshness.
From field to shore, dairy to butchers, Sheedy's food store is the rich bounty of home grown, locally-sourced and artisanally-prepared foods found in the area.  John 's 'extended family' is the network of farmers, fishermen, crofters, foragers and artisans who supply his kitchen. All work together as part of The Burren and Cliffs of Moher Geopark and all are proud of and passionate about their rural community and the work they do. But this sustainable approach to food preparation is nothing new to Sheedy's: John has been using local suppliers for more than 30 years, from the day he ordered his first goat's cheese from a local craftsman. Defined by freshness, authenticity and integrity, this well-established tradition is evident in every bite of his fine, handcrafted food.  Whether you're sitting down to a fine Irish breakfast of Tipperary artisanal sausages and rashers with farm eggs, or savouring a fine cheese with your after-dinner Port, you can taste the difference real makes.
John uses fresh ingredients – herbs and vegetables – from his extensive kitchen garden at the hotel.
Fresh fish from Doolin and lamb from Bernard Roughan are delivered daily to the hotel.
John makes his own jams, marmalades and breads – and our organic porridge is prepared with Irish Whiskey or Baileys, or with cream and brown sugar. There's simply no better breakfast.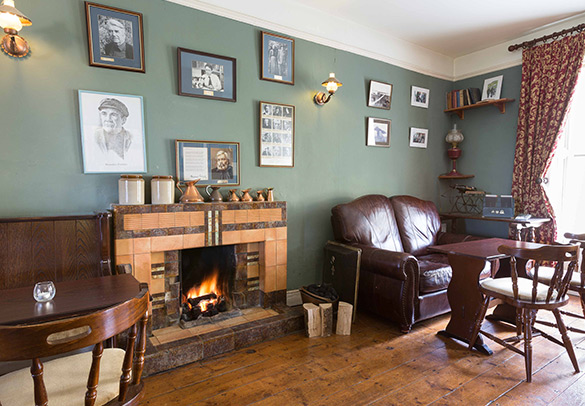 Relax in the Bar
Relax by the fire in our characterful Residents Bar.   After dinner enjoy selecting from our well stocked whiskey range!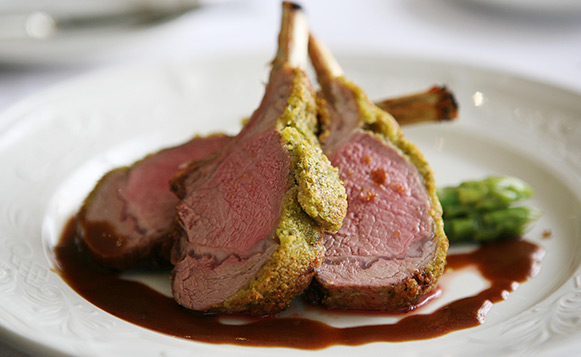 Taste Tip
During your stay at Sheedy's, be sure to experience some of John's signature dishes. His Roast Rack of Burren Lamb served with Slow Cooked Lamb Shoulder, Fresh Spinach and Lamb Gravy is a must.
As we are a Boutique property, a reservation for dinner is recommended.
€55.00 per person for Two Courses
€65.00 per person for Three Courses
The Restaurant does not open on Sunday evenings.
The Restaurant will be closed on the evening of Wednesday August 9th 2023
The Best of Breakfasts
Set yourself up for a day of exploring with one of Sheedy's famous breakfasts – the heart of our country experience. Warm the soul with our freshly-made organic porridge, served with Baileys. It's sheer heaven. Then taste pure Irish hospitality with a full Irish breakfast – with every delight from the freshest, organic farm eggs to locally-sourced, artisanal pork sausages.
A Personal Approach
If you're looking for an experience that isn't the impersonal, franchised hotel of today – make Sheedy's your choice.
Opening Times
The Restaurant is open from 6.30pm to 8.30pm.
The Restaurant closes on a Sunday evening from June to September.  To avoid disappointment, check beforehand (+353) 65 – 7074026
For the moment, and to comply with social distancing guidelines, we are limited to welcoming guests with reservations only.
Contact us today.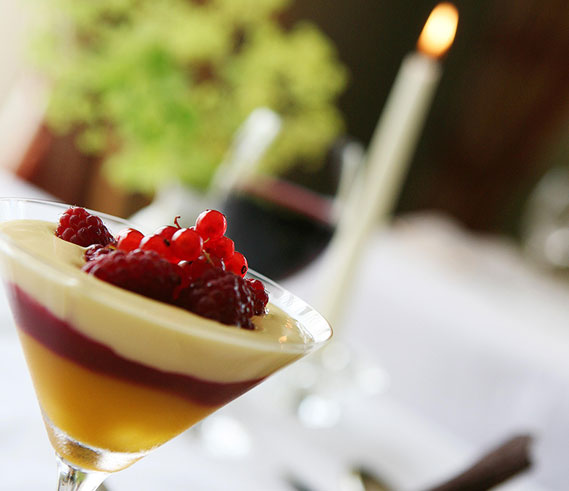 Accolades and Awards
The Good Hotel Guide Editor's Choice 2020 and 2022 for Walking Breaks.
The Restaurant holds Two Rosettes from the AA.
Georgina Campbell Award for Best Breakfast in Munster.
Tripadvisor Traveller's Choice Award
Listed in Top 25 Small Hotels in Ireland.
Eco Label from Green Hospitality Ireland for commitment to 'going green'.
Listed in the 'All the best places to eat' McKennas' Guide.
Listed in the Georgina Campbell Guide – the very best places to eat, drink and stay.
First Place for Service Award from Original Irish Hotels
John and Martina Sheedy run one of the west of Ireland's best-loved small hotels – it offers some of the most luxurious accommodation and the best food in the area, yet it still has the warm ambience and friendly hands-on management which make a hotel special.

Georgina Campbell, Campbell Guide to Ireland